45 iOS Tab Bar Icons (PSD & PNG)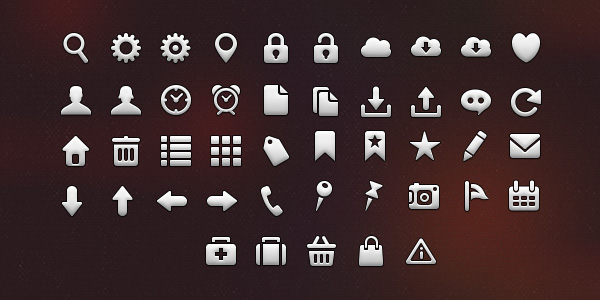 Friends, today's design download is a set of 45 retina ready tab bar icons for iPhone 5, iPod and iPad devices.  The pack comes with two sizes of 60×60 and 30×30 pixels icons in grey and black variations that you can use for iOS tab bar or tool bar.
What's included in the zip file download is a set of transparent black and gradient grey PNG files for both the 60×60 and 30×30 pixels size. The file also includes two PSD files of normal and retina-ready icons, all created with shape layers. You can easily resize them to fit into other iOS or web app designs. Your comments on this excellent freebie is welcome in the comment box!
Preview of the iOS icons
Author: Rafi
File Resolution: 580 pixels
Icons Sizes: 60×60 and 30×30 pixels
File Format: PSD, PNG
Keywords: iOS Tab Bar icons, iPhone 5 and iPad Icons, Icons, PSD files
Size: 2.5 MB (zip)
License: Royalty-free, Free for personal and commercial use
via GraphicsFuel.com http://www.graphicsfuel.com/2013/01/45-ios-tab-bar-icons-psd-png/